Information pursuant to Sect. 5 German Telemedia Act (TMG)
Dr, Elisabeth Unger
Rechtsanwältin Dr. Elisabeth Unger
Neuer Wall 10
20354 Hamburg
Contact
Phone: +49 (0) 40 – 30 99 71 55
Telefax: +49 (0) 40 – 30 99 71 56
E-mail: info@ungerrechtsanwaelte.de
VAT ID
Sales tax identification number according to Sect. 27 a of the Sales Tax Law:
DE249454966
Supervisory authority
Hanseatische Rechtsanwaltskammer Hamburg
Valentinskamp 88
D – 20355 Hamburg
Telefon: +49 40 35 74 41 0
Telefax: +49 40 35 74 41 41

Email: info@rak-hamburg.de
Job title and professional regulations
Job title:
Rechtsanwältin
Competent chamber:
Hanseatischen Rechtsanwaltskammer Hamburg
Authorisation granted in:
Deutschland
The following professional regulations apply:
Bundesrechtsanwaltsordnung (BRAO), Berufsordnung für Rechtsanwälte (BORA), Fachanwaltsordnung (FAO), Rechtsanwaltsvergütungsgesetz (RVG), Berufsregeln der Rechtsanwälte der Europäischen Union (CCBE)
available at: https://brak.de/fuer-anwaelte/berufsrecht/
Information regarding professional liability insurance
Name and registered office of the insurer:
HDI Versicherung AG (V-068-913-124-4)
HDI-Platz 1
30659 Hannover
Scope of insurance:
Mitgliedsländer der Europäischen Union
EU dispute resolution
The European Commission provides a platform for online dispute resolution (ODR): https://ec.europa.eu/consumers/odr/.
Our e-mail address can be found above in the site notice.
Dispute resolution proceedings in front of a consumer arbitration board
We participate in a dispute settlement procedure before a consumer arbitration board. The competent consumer arbitration board is Zentrum für Schlichtung e.V., Straßburger Straße 8, 77694 Kehl am Rhein (https://www.verbraucher-schlichter.de).
This site uses images from Shutterstock and Pixabay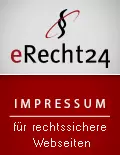 Partnerlink